Supporting Your Child
Parents are a child's first and most important teachers
90% of a child's brain develops by age 5. These early years are when brain connections necessary for successful learning are formed. The interactions children have with the adults in their lives shape their social, emotional, cognitive and language skills, which are the foundation of their ability to learn. So, the job of helping kids get ready for school starts the day they are born.
It's easy to encourage learning
There are simple things you can do to help your kids develop the skills they need:
Read to and with them
Differences in the size of children's vocabulary first appear at 18 months, and the number of words a child knows at age 3 strongly correlates with later reading ability. Help your kids develop the language and pre-reading skills that will help them succeed in school.
Read to babies, toddlers and preschoolers every day.
Read rhyming poems and nursery rhymes; invite your child to finish rhymes.
Take young kids to the library, start a home library, and let them see you reading.
Interact with them
Young children are constantly serving up invitations to engage with adults, who are either responsive or unresponsive to their needs. This "serve and return" process is fundamental to the wiring of the brain, especially in the early years.
Talk to young kids frequently. Ask them questions and speak clearly.
Tell your child stories. Ask them questions about the stories and listen patiently to what they have to say.
Sing with them.
The American Academy of Pediatrics recommends no screen time for children under age 2 and less than two hours a day for older children.
Play with them
Young children develop curiosity, initiative, problem solving, focus and persistence – all important to learning – through play.
Play should be spontaneous and contain an element of make believe.
Join in the fun, but let your child take the lead.
Provide the resources for stimulating play. Age-appropriate toys are great, but so are simple objects (like a cardboard box); video games don't count.
First things first Signature Program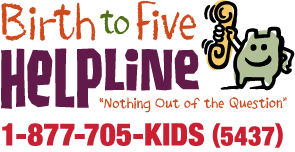 Whenever a question or concern arises, help from a child development expert is just a phone call or click away. The Birth to Five Helpline is a free service available Monday through Friday from 8 am to 8 pm; you can also leave a voicemail message or submit your question online 24/7. Staffed by early childhood development specialists, registered nurses, disabilities specialists, early literacy specialists and mental health counselors, the Helpline is another source of support for child care and preschool programs in Arizona.
It's important to keep your kids healthy and happy
A child's health and well-being impacts his/her development. While some factors that lead to poor health can't be controlled, others can. We are all partners in ensuring that babies and young children receive the preventative and routine health care they need.
Nutrition and activity
Families are the role models for children's behaviors. There are many things you can do to promote a healthy, active lifestyle.
Buy and prepare balanced, nutritious meals and snacks. Eat together as a family.
Offer water at least 4 times per day and limit fruit juice to 4-6 ounces.
Encourage physical activity every day. Remember to be sun-safe.
Check ups
Caring for the health and well-being of your child can improve his/her chances of entering school healthy and ready to learn.
Establish a relationship with a family doctor and make well-child appointments.
Keep your child's immunizations up to date (and give a copy to your child care provider).
Keep a list of questions or concerns about your child's development and share them with your doctor.
Oral health
Dental issues are the most frequent cause of school absences among young children, and about one-third of all current kindergartners have some untreated tooth decay. It's important to start good oral health habits early.
Visit your dentist regularly, starting when your child's first tooth appears.
Make brushing (or caring for infants' gums) part of your daily routine. Swish and spit for those times when you can't brush.
Hold your baby when feeding and remove bottles at bedtime.
First things first Signature Program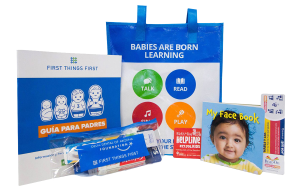 First Things First provides the Arizona Parent Kit – free of charge – to parents of all newborns in the state before they leave the hospital or birthing center. Each kit contains a booklet of informative and practical advice, a parent resource guide and an infant board book to encourage parents to read to their child. Be sure to ask for your Arizona Parent Kit.
More resources to help your kids thrive
Follow First Things First on Facebook
Join the many thousands of parents and supporters of early childhood who follow First Things First for timely information, inspiration and conversation.